Published: 14 December 2017

14 December 2017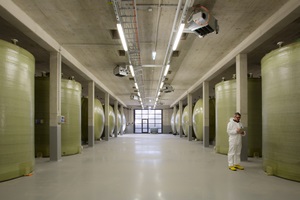 With its delivery of 3,500 m2 Sigracell battery felts and 1,750 m2 Sigracellbipolar plates made of specialty graphite, SGL Group has made its contribution to the setup and commissioning of the currently largest battery in Germany, a redox flow wind battery in Pfinztal, Baden-Württemberg. As part of the RedoxWind research project at the Fraunhofer Institute for Chemical Technologies (ICT), the battery will store energy generated by wind power and feed it to the network on demand.
The carbon fiber felts and bipolar plates supplied by SGL Group assume the function of positive and negative electrodes. By March 2018, the last parts will be delivered to customer J. Schmalz GmbH, an automation specialist responsible for assembling the so-called redox flow stack. Upon completion, the redox flow battery that occupies a whole building should be able to store 20 MWh of electricity. The project aims to prove that this type of energy system both makes economic sense and can also provide reliably power at all times. The State of Baden-Württemberg and the Federal Ministry of Education and research support the project with a total of € 19 million.