Published: 21 November 2018

21 November 2018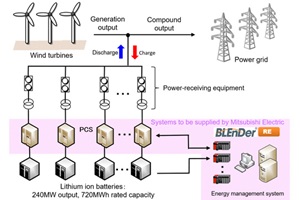 Mitsubishi Electric Corporation has announced that has received an order for its BLEnDer RE energy-management system to monitor and control the battery and power conditioners (PCS) of the energy-storage system (240MW output and 720MWh rated capacity) at Kita-Toyotomi Substation in Toyotomi, Teshio, Hokkaido, Japan.
The order has been awarded by Chiyoda Corporation, which will execute the design, engineering and construction for the Grid Reinforcement Pilot Project for Wind Turbines. The project is owned and led by North Hokkaido Wind Energy Transmission Corporation under the auspices of the Ministry of Economy, Trade and Industry's Agency for Natural Resources and Energy.