Published: 14 December 2017

14 December 2017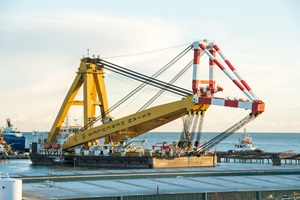 One of the world's largest and most versatile floating cranes has arrived in Peterhead Port ahead of 11 suction bucket foundations. Setting up base in Peterhead Port, the 25,000 tonne Asian Hercules III will lift and install the 77 metre-high, 1,800 tonne steel jacket foundations at the site of Vattenfall's pioneering European Offshore Wind Deployment Centre in Aberdeen Bay.
The floating crane has a lifting capacity of up to 5,000 tonnes and a hook height of at least 120 metres. It will be used to transport the jacket structures from Peterhead Port to the wind farm site and lower them on to the seabed in Aberdeen Bay. Two barges will transport the foundations from Newcastle to Peterhead Port for marshalling while the harbour will also accommodate a construction support vessel and barge tugs.