Published: 07 September 2018

07 September 2018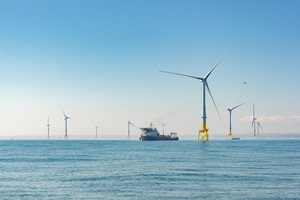 On 7 September 2018, the European Offshore Wind Deployment Centre (EOWDC), with the world's largest turbine capacity, is inaugurated in the presence of Vattenfall`s CEO Magnus Hall and Nicola Sturgeon, First Minister of Scotland. Future wind power technology will be tested at the EOWDC in Aberdeen Bay.
There are eleven wind turbines installed; two 8.8MW and nine 8.4MW. At EOWDC, essentially two areas will be studied:
New wind power technology
The technology for building the foundations of the turbine towers is new. Instead of using traditional monopiles (hollow steel tubes), a new technique has been used at Aberdeen Bay; so-called suction buckets. The method is suitable for seabed with shallow rock strata, is virtually silent which minimizes the disturbance of wildlife at sea.
How the marine life is affected by wind farms
For studies of marine wildlife around wind farms, Vattenfalll and the EU have invested EUR 3 million to study the effect of offshore wind farms on dolphins, salmon, sea trout and sea birds.