Published: 23 May 2019

23 May 2019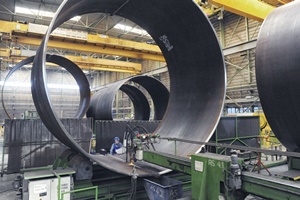 The construction of Kriegers Flak Offshore Wind Farm in the Baltic Sea has now started well on schedule. The first of 72 monopile foundations are currently being welded together. The foundations are being manufactured in Rostock in Germany by EEW Special Pipe Constructions.
In spring 2020, the up to 800 tonnes heavy monopiles will be sailed from Rostock directly to the offshore construction site for installation 15-40 kilometres off the Danish coast. The foundations will carry the 72 Siemens Gamesa 8.4 MW wind turbines that together add up to a total capacity of just over 600 MW. When the wind farm in the Baltic Sea is in full production by the end of 2021, it will increase the yearly Danish electricity production from wind by 18%.