Published: 16 December 2020

16 December 2020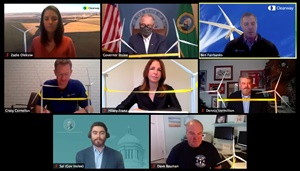 Clearway Energy Group (Clearway) and Avista Utilities (Avista) hosted a virtual ribbon-cutting ceremony to mark the commencement of commercial operations for the newly-constructed 160MW Rattlesnake Flat wind farm in central Adams County, Washington, USA.
Construction of Rattlesnake Flat began in April and consists of 57 Siemens Gamesa turbines that interconnect to Avista's transmission grid as part of a 20-year purchase power agreement between Clearway and Avista. During construction, Rattlesnake Flat created approximately 250 jobs, and 10 jobs will be sustained to operate and maintain the wind farm going forward. To date, the project has invested $12 million into the local economy and will invest a further $350,000 each year during operations. The project will also contribute $1.5 million in property tax revenue in its first year of operation and an annual average of approximately $700,000 each year for the next 30 years. Blattner Energy led the construction of the project.