Published: 16 September 2020

16 September 2020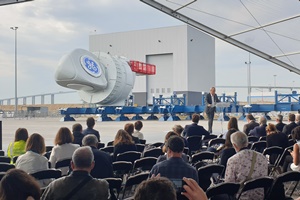 Jérôme Pécresse, President and CEO of GE Renewable Energy, as well as Bruno Bensasson, EDF Group Senior Executive Vice-President Renewable Energies, representing the consortium formed by EDF Renewables and Enbridge, celebrated the production of the first GE Renewable Energy nacelle, for the future Saint-Nazaire wind farm implemented by EDF Renewables-Enbridge.

This nacelle, which contains the generator, is the first in a series of Haliade 150-6 MW wind turbines, produced for the Saint-Nazaire offshore wind farm, to be assembled by GE Renewable Energy at the Montoir-de-Bretagne production site. This wind farm, already under construction for one year, will be composed of 80 wind turbines spaced one kilometer apart and located 12 to 20 km off the coast. While GE Renewable Energy production continues, earthworks are being finalized in preparation for the storage and assembly of the wind turbine components in the port of Saint-Nazaire. The wind turbines will be stocked there starting in 2021.

Installation at sea will begin in 2021 with anchoring of the foundations and burying the inter-turbine cables. Then, the electric substation will be installed in the sea during the summer. In spring 2022, the first wind turbines could be installed offshore and progressively commissioned. This start-up process will last until year-end.