Published: 15 October 2019

15 October 2019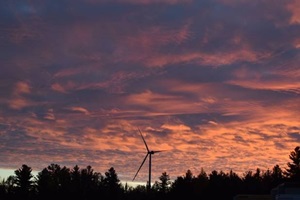 Pattern Energy Group (Pattern Development) and Nigig Power Corporation have announced completion of the 300MW Henvey Inlet wind power facility in Ontario, Canada.
Pattern Development and Nigig Power Corporation, a wholly-owned subsidiary of Henvey Inlet First Nation, are joint venture partners in the facility, which is located on Henvey Inlet First Nation Reserve No. 2, on the northeast shore of the Georgian Bay. Henvey Inlet Wind utilises 87 Vestas 3.45MW turbines with a 136-meter rotor diameter and 132-meter hub height. A 104-kilometer transmission line delivers electricity generated by the facility to the Ontario electricity grid. Henvey Inlet Wind has a 20-year Power Purchase Agreement with the Independent Electricity System Operator (IESO) for 100% of its production. Pattern Development owns a 50% interest in the project, and Nigig Power Corporation owns the other 50% of the facility.