Published: 15 August 2018

15 August 2018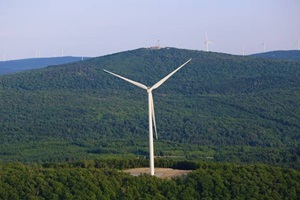 Pattern Energy Group (Pattern Energy) and the Public Sector Pension Investment Board (PSP Investments) have announced the acquisition of the 147MW Mont Sainte-Marguerite Wind power facility from Pattern Energy Group LP (Pattern Development 1.0). Mont Sainte-Marguerite Wind is located approximately 50 kilometers south of Québec City, in the Chaudière-Appalaches region.
Mont Sainte-Marguerite Wind is fully operational and has been jointly acquired pursuant to a prior-agreed purchase-and-sale agreement. Pattern Energy acquired a 51% interest in Mont Sainte-Marguerite for a total investment of approximately US$ 40 million. PSP Investments acquired a 49% interest in Mont Sainte-Marguerite. Pattern Energy will operate the facility. The facility is utilising 46 Siemens Gamesa 3.2MW direct drive wind turbines with components made in Canada, including the turbine hubs and towers, which were built in Québec. The turbine hubs were provided by Québec-based Group FabDelta. The turbine blades were manufactured in Ontario and the towers were manufactured by Marmen at the company's facility in Matane, Québec. The Mont Sainte-Marguerite Wind facility operates under a 25-year power purchase agreement (PPA) with Hydro-Québec Distribution.