Published: 23 March 2021

23 March 2021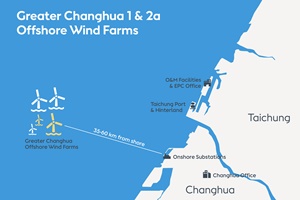 With all the permits and EIA approvals in place, Ørsted is moving ahead with offshore construction activities of the 900 MW Greater Changhua 1 & 2a offshore wind farms.
Ørsted has kicked off the horizontal directional drilling (HDD) to prepare for cable laying and scour protection works to make the seabed ready for foundation installation. Moreover, Ørsted is progressing well with onshore construction, including completing the civil works of the two onshore substation main buildings and the upgrade work of the hinterland at wharfs 36 and 37 at the Port of Taichung for storing key components for offshore installation. Located 35-60 km off the coast of Changhua County, the offshore wind farm in Taiwan is scheduled to be finalised by 2022.