Published: 08 December 2021

08 December 2021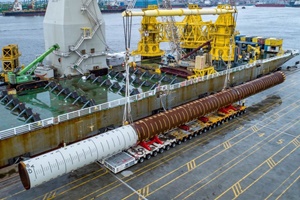 CTCI Machinery Corporation (CTCI MAC), the manufacturer of pin piles for the 600MW, 62-turbine Changfang & Xidao Offshore Wind Farm off central coast of Taiwan, has completed the manufacture and acceptance of second batch of 69 pin piles.
Previously in June this year, the first batch of 48 pin piles have been delivered. In all, 117 pin piles contracted by CTCI MAC among 186 needed at the wind farm have been completed. The CFXD Offshore Wind Farm is developed by Copenhagen Infrastructure Partners (CIP). CTCI MAC is an affiliate of CTCI Group.