Published: 13 November 2018

13 November 2018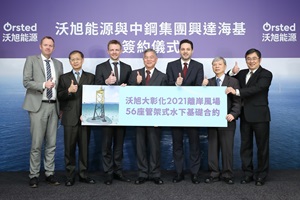 Ørsted has signed a contract with Sing Da Marine Structure Corporation (SDMS), a wholly-owned subsidiary of China Steel Corporation (CSC). During 2020 and 2021 SDMS will supply 56 jacket foundations for Ørsted's first 900MW Greater Changhua projects in Taiwan to be installed in 2021.
SDMS will extend their facilities in Sing Da Harbour in Kaohsiung and have the new factory operational in the first quarter of 2020. The Ørsted foundation team has spent more than 18 moths to develop this partnership with CSC and SDMS and is dedicated to transferring knowledge to develop a local Taiwanese supplier. The contract signed today is subject to certain conditions such as the signing of a power purchase agreement by the end 2018 and Ørsted's final investment decision, which is expected in March 2019.