Published: 21 August 2019

21 August 2019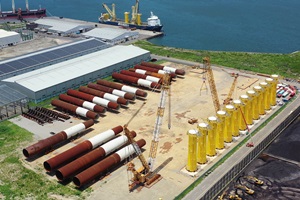 Jan De Nul Group has completed installation of all twenty foundations on the 120MW Formosa 1 Phase 2 wind farm in Taiwan. As part of Jan De Nul Group's EPCI contract for building of the overall Balance of Plant, Jan De Nul Group mobilised the Seaway Yudin to install the 20 foundations.
The monopiles range from 752 to 1230 Ton with a maximum diameter of 8.4 meter and a length ranging from 60.1 to 79.5 meter. The wind farm is owned by Formosa I Wind Power Co. Ltd., a partnership of Ørsted (35%), JERA (32.5%), Macquarie Capital (25%) and Swancor Holding (7.5%). The offshore wind farm is located around 6 kilometres off the west coast of the Miaoli district in the Taiwan Strait, with water depths ranging between 15 and 30 metres. The project comprises 2 phases: phase 1 of two wind turbines with a total capacity of 8MW. Extended from phase 1, this second phase will add 20 offshore wind turbines with a total capacity of 120MW.