Published: 14 August 2020

14 August 2020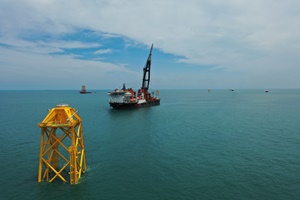 The very first jacket foundations of the Taiwan Power Company Offshore Windfarm Phase 1 Project have been installed in Taiwanese waters, approximately 10km off the coast of Fangyuan in Changhua County.
Up to today a total of nine jacket foundations, weighing approximately 1,100 metric tonnes each, have been installed on the seabed by means of the offshore installation vessel Aegir, which Jan De Nul Group chartered from Dutch Heerema Marine Contractors for the foundation installation campaign. In total, the TPC Offshore Wind Farm will comprise 21 offshore wind turbines, each installed on a jacket foundation, which are anchored to the seabed by four steel pin piles. Installation of these pin piles started in June this year. After installing the jackets on the pin piles, the void between these two is grouted to create a firm connection. All 21 jackets have been manufactured at the South Korean Shipyard Company Samkang, and measure between 55 m and 62 m in overall height. The jackets include a 7.2 m high Transition Piece (TP) with a diameter of 5.4 m to support the towers carrying the Hitachi 5.2 MW turbines. Each jacket comes with two davit cranes for cargo hoisting and two boat landings to enable personnel access. The jackets are equipped with specialised offshore accessories such as navigation lights, foghorns and CCTV cameras. Consortium partner Hitachi continues to mobilise the turbine components to the marshalling port of Taichung, to allow preparation for offshore installation in August with Jan De Nul's Offshore Jack-Up Installation Vessel Taillevent.