Published: 17 September 2019

17 September 2019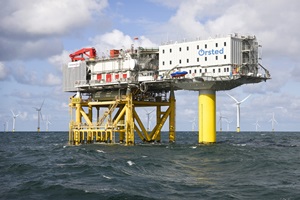 Located far from the Danish coast and in an area of the North Sea with high waves, the Horns Rev 2 offshore wind farm has been covering the annual power consumption of around 200,000 Danish households with renewable energy for the past decade.
At the inauguration in 2009, Horns Rev 2 was the world's largest offshore wind farm, but at the same time also the first offshore wind farm located that far from shore and in waters with such high waves. The 91 wind turbines are placed in a fan formation to better utilise the wind, and the foundation is constructed of both steel and concrete, so it's better equipped to withstand the extreme conditions at sea. Furthermore, an accommodation platform was installed in connection with an offshore wind farm for the first time in history.
The wind farm is located in the North Sea, 30 kilometres west of Blåvandshuk on the Danish west coast. Horns Rev 2's operation and maintenance organisation with approximately 40 employees is based in Esbjerg.