Published: 07 November 2016

07 November 2016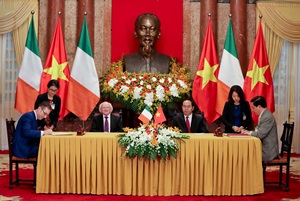 Mainstream Renewable Power will develop, build and operate, together with local and international developers, three wind projects with a combined capacity of approximately 940MW.
The 800MW Phu Cuong Wind Farm, a project with an investment injection of approximately US$ 2 billion, will be executed in partnership with GE Energy Financial Services. Both Mainstream and GE Energy Financial Services have agreed to jointly acquire a share in the project as part of a term sheet that was signed in September 2016 between the two companies, which foresees them building 1GW of wind farms in Vietnam. The project is with local partner Phu Cuong Group, which will remain involved in the project and its five development phases. The Phu Cuong project is located in the Soc Trang Province in Vietnam and the first phase, 150-200MW, is expected to reach financial close in 2018.
The Thai Hoa Wind Farm (83MW) and the Thai Phong Wind Farm (55MW) are located in the Binh Thuan Province in Vietnam, with a combined investment injection of approximately US$ 200 million. Mainstream will acquire a share of the projects together with Pacific Corporation, the original developer. The first phase of this project is anticipated to reach financial close in 2018.