Published: 14 September 2022

14 September 2022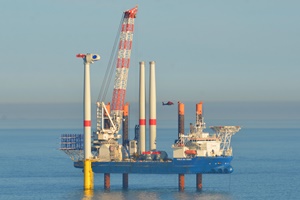 Jan De Nul's Offshore Jack-Up Installation Vessel Vole au vent has completed her mission on the Saint-Nazaire Wind Farm project in France. The Vole au vent transported and installed 80 sets of 6 MW wind turbines for the very first commercial wind farm in French waters.
The Vole au vent loaded the 6 MW wind turbines, in sets of four, at the 'Forme Joubert' lock in the port of Saint-Nazaire and then transported the components approximately 12 kilometres offshore for installation on top of the foundations located on the Banc de Guérande seabed, in the northern part of the Bay of Biscay. On 1 April, the first turbine was loaded in the port. On 5 September, the 80th and very last turbine was successfully installed. The wind farm will have, by the end of 2022, a total capacity of 480 MW.