Published: 11 July 2022

11 July 2022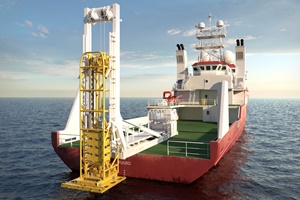 Fugro has completed a contract for the Netherlands Enterprise Agency (RVO) to perform a geotechnical site investigation at the IJmuiden Ver (Noord) V and VI wind farm sites as part of the geophysical survey package.
Working from a third-party vessel, Fugro deployed its new Blue Snake geotechnical system to conduct 25 co-located cone penetration tests (CPT), thermal cone penetration tests (T-CPT) and high performance corer (HPC) tests. The Fugro Blue Snak is a system that integrates CPT and sampling technology. The tests are taken consecutively, at a fixed distance, enabling high-quality data acquisition and improved data correlation. The IJmuiden Ver V and VI areas are in the northern part of the IJmuiden Ver wind farm zone and will be able to accommodate around 2 GW of offshore wind capacity, on top of the 4 GW of capacity already planned in the IJmuiden Ver zone.