Published: 21 June 2023

21 June 2023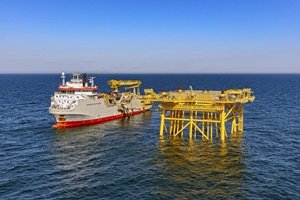 Jan de Nul Group/LS Cable & System, the contractor combination, has completed the installation of the second subsea cable for the offshore wind farm 'west Alpha' in collaboration with TenneT, the grid manager.
This achievement was made possible by employing the cable-laying vessel Isaac Newton, the work vessel Adhémar de Saint-Venant, and a remote-controlled cable burial vehicle.
Over the past few weeks, the project involved laying more than sixty kilometers of cable on the seabed between the Heemskerk beach and the designated 'socket' constructed by TenneT at sea. In a previous endeavor, Jan de Nul had pulled four sea cables from the Heemskerk beach through conduits beneath the dunes. Following the successful installation of the two sea cables for the Hollandse Kust (north) wind farm, the first sections of the two cables for 'west Alpha' were laid and securely capped on the seabed.
After the installation of the first sea cable, Jan de Nul positioned the capped section of the second cable for 'west Alpha' just above the waterline in April, approximately five kilometers from the beach.
Upon coupling the cables with the assistance of the LS Cable & System team from South Korea, the cable was gently lowered back onto the seabed. Simultaneously, the work vessel Adhémar de Saint-Venant made its appearance off the coast, carrying the UTV1200 unmanned cable-laying vehicle on board. As the Isaac Newton set sail, the cable gradually unwound from the large turntable situated on the vessel. The Adhémar de Saint-Venant followed shortly after, steering the UTV1200 to lay the cable securely within the seabed.
Upon completion of the necessary tests, TenneT is set to provide the connection for 'west Alpha' in the first quarter of 2024.