Published: 30 June 2023

30 June 2023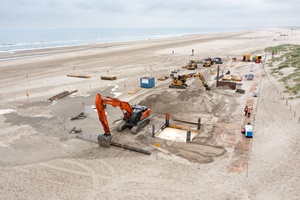 Excavation work started on Velsen beach, The Netherlands, to remove seven 'obstacles' from the sand at a depth of several metres. Those 'targets' were located during the earlier investigation for unexploded explosives from World War II.
The objects will be removed for the construction of the sea cables, which TenneT will use to bring the energy of the offshore wind farm Hollandse Kust (west Beta) ashore from 2026. Using technology attached to a drone, Tennet looked down into the soil to a depth of about ten metres. This is how they found 13 'suspect locations' in the beach. After test drilling, seven targets remained, which they will now excavate. Next autumn, south of Wijk aan Zee on the Velsen beach (near De HangOut), work will start on the connection of the Hollandse Kust (west Beta) wind farm.