Published: 17 January 2022

17 January 2022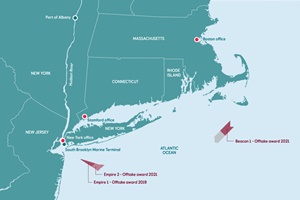 U.S. Secretary of Energy Jennifer Granholm, New York Governor Kathy Hochul and U.S. Representative Paul Tonko, Equinor and bp have announced the finalisation of the Purchase and Sale Agreements (PSAs) with the New York State Energy Research and Development Authority (NYSERDA), for Empire Wind 2 and Beacon Wind 1.
The finalisation of the PSAs concludes the contracts awarded in January 2021, when Equinor and bp were selected to provide New York State with offshore wind power.
The PSAs agreed to with New York State finalises the terms under which Equinor and bp will provide generation capacity of 1,260MW of renewable offshore wind power from Empire Wind 2, and another 1,230MW of power from Beacon Wind 1, while making investments in New York's infrastructure.
The projects include port upgrades to transform South Brooklyn Marine Terminal into a staging and assembly facility for the industry, as well as an operations and maintenance base for the projects. Equinor recently announced the opening of a New York project office located in Sunset Park, Brooklyn, opposite the South Brooklyn Marine Terminal. The partnership will also invest in the Port of Albany, making it an offshore wind tower and transition piece manufacturing facility.