Published: 11 January 2023

11 January 2023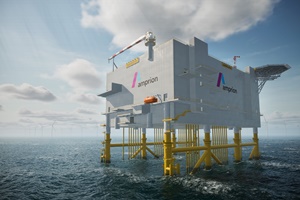 Amprion Offshore has awarded Siemens Energy and Dragados Offshore to build the converter stations for the LanWin1 and LanWin3 offshore grid connection systems. The partners are to build two converters each offshore and onshore in the new 2GW power class.
The systems are to be commissioned two and three years earlier than originally planned. The plans provide for LanWin1 to go into operation as early as 2029 instead of 2031 and for LanWin3 as early as 2030 instead of 2033.
The two offshore grid connection systems LanWin1 and LanWin3 will connect offshore wind farms in the North Sea to the onshore transmission grid in Wehrendorf (Lower Saxony) and Westerkappeln (North Rhine-Westphalia). They will be installed parallel to one another for the most part on land and at sea, too. LanWin1 is an approximately 390 kilometre-long connection, some 170 kilometres of which will be laid at sea. LanWin3 will also have a total route length of around 390 kilometres, with some 160 kilometres at sea. The land sections of both LanWin1 and LanWin3 are planned as underground direct current cables.