Published: 26 April 2016

26 April 2016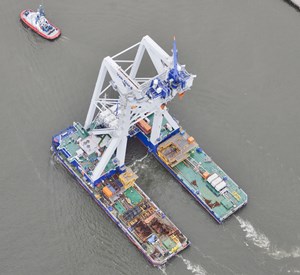 E.ON has awarded the contract for the transport and installation of foundations at the Arkona offshore wind project in the German Baltic Sea to Van Oord. Van Oord will install the project's 60 monopiles and transition piece foundations.
For installing foundations at the Arkona offshore wind project, Van Oord intends to deploy its heavy lift installation vessel Svanen. A2SEA's purpose-built offshore installation vessel SEA CHALLENGER will be deployed to install the 60 Siemens 6MW turbines in 2018. Further VBMS has been awarded a contract by E.ON for the installation of 65 inter array cables for the Arkona offshore wind farm (OWF). The total scope of work for VBMS will consist of route engineering, surveying, a pre-lay grapnel run, trenching, termination and testing of the 65 cables. The cabling project is set to start in 2018, following survey activities that are scheduled for this year. With an installed capacity of 385MW, the Arkona Offshore Wind Farm will be located in the Baltic Sea and will consist of 60 wind turbines.