Published: 03 March 2017

03 March 2017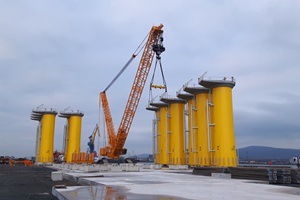 Schmidbauer Group was awarded the contract by Van Oord Offshore Wind Projects to handle the heavy load logistics for the Walney Extension Wind Farm.
Schmidbauer will unload, store and transport the Transition Pieces (TP´s) weighing up to 600 tonnes and Monopiles (MP´s) up to 1.030 tonnes at the feeder harbor in Belfast. Here, parts of in total 87 wind turbines are stored which will be taken by tugboat or installation vessel to the offshore wind farm. Schmidbauer is primarily using the Liebherr LR 11350 (1.350 tonne capacity) and LR 1350 (350 tonne capacity) crawler cranes. In addition, 56 SPMT axels are on site to move the MP's with 8,40 metre diameter and 80 metre length throughout the port.