Published: 09 February 2022

09 February 2022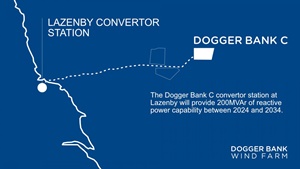 Dogger Bank Wind Farm has secured a UK power first by becoming the first offshore wind farm project to win a tender from National Grid ESO to provide reactive power capability.
Under new £22.5m Pennines Voltage Pathfinder contracts announced, National Grid ESO has awarded a 10-year power contract to Dogger Bank C that will see its onshore converter station at Lazenby in the North-East of England provide 200 MVAr of reactive power capability between 2024 and 2034.
Located off the north-east coast of England, Dogger Bank Wind Farm is being built in three 1.2GW phases, with an overall capacity of 3.6GW. Dogger Bank C, which won a CfD in the 2019 auction, is around 560km² in size and at its closest point is 196km from shore. The third phase of the project is being developed on a different timescale to the first two phases, Dogger Bank A and B, which are being constructed at the same time. Dogger Bank C will connect to the national grid at the existing Lackenby Substation in Teesside.
SSE Renewables, which is leading on the construction of Dogger Bank Wind Farm, is due to commence onshore construction works for the offshore transmission asset later this summer.