Published: 22 November 2021

22 November 2021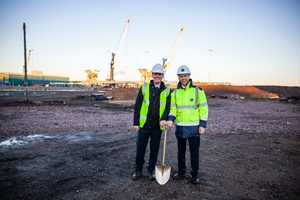 Dogger Bank Wind Farm has officially broken ground for its net zero carbon Operations and Maintenance (O&M) Base at the Port of Tyne. SSE Renewables is leading on the construction of the wind farm, and Equinor will operate the 3.6GW wind farm from the new base, for its operational life expected to be 35 years.
Dogger Bank will be located more than 130km offshore, and the Operations and Maintenance Base will be the onshore hub for the wind farm. Over 200 people will be based there or offshore to operate and maintain the 277 turbines and associated infrastructure.
Recruitment will ramp up in 2022, as the project looks to fill roles including wind farm technician, project planners, engineers and management. As well as offices for those based onshore and a warehouse to store spare parts for the wind farm, the design includes development of a new quay suitable for the Service Operations Vessels (SOVs) that provide accommodation, and transport for technicians to and from the wind farm. The vessels will come to the port approximately twice a month for resupply and crew change. The 3400m2 base is expected to complete in Q4 2022, ahead of wind farm operations starting in 2023. The construction of the O&M base is being managed by Equinor, which has contracted global real estate advisor CBRE as the Principal Designer, and Bowmer + Kirkland (B+K) as the Principal Contractor for the facility.