Published: 11 November 2022

11 November 2022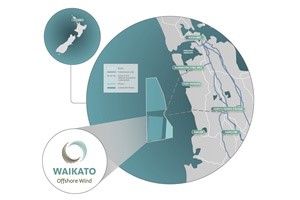 The consortium formed by BlueFloat Energy, Energy Estate and Elemental Group has announced its plans for an offshore wind project in South Auckland and West Waikato, Aotearoa, New Zealand.
The project, currently named Waikato Offshore Wind project, is intended to be developed in phases to generate capacity of up to 1.4 GW of power using both fixed and floating foundation technology. Phase 1 of the project is for a ~250 MW development using fixed bottom technology 22 kilometres off the West Waikato coast. Options for Phase 2 utilise floating foundations and include the potential for an 800-1,150 MW development positioned to the west or north of Phase 1. The consortium has completed its initial site selection and the project is now in the feasibility stage with construction expected to commence before 2030. The South Auckland-Waikato offshore wind project is the second investment to be announced by the
partnership
in New Zealand.