Published: 22 November 2022

22 November 2022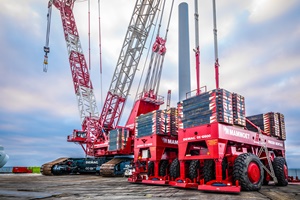 GE Renewable Energy has selected Mammoet UK, based in Thornaby Teesside, to supply onshore heavy lifting and transport for the staging and assembly of turbine components for Dogger Bank Wind Farm.
The 3.6GW Dogger Bank Wind Farm is a joint venture between SSE Renewables, Equinor and Vårgrønn and is located over 130 km off the north-east coast of England. Mammoet will employ multiple lifting and transport crews for simultaneous operations to support with the loading of equipment and tower assembly in the marshalling harbour. The team will utilise cranes and self-propelled modular transporter (SPMT) axles at Able Seaton Port, the Dogger Bank Wind Farm marshalling harbor. GE will start preparing the marshalling harbor and receiving components at the end of 2022.