Published: 15 November 2023

15 November 2023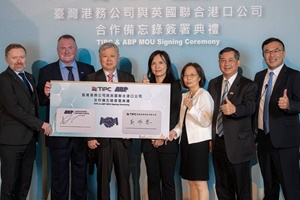 Associated British Ports (ABP) has signed a memorandum of understanding (MOU) on cooperation with Taiwan International Ports Corporation (TIPC).
The MOU opens the door for information and experience sharing between the two signatories on floating offshore wind (FLOW)-related port facilities and for the exploration of future business collaboration opportunities. The MOU was signed by TIPC Vice President of Business, Shu-hui Cheng and ABP Head of Offshore Wind, Andy Reay and witnessed by TIPC Chairman, Hsien-yi Lee and British Office Taipei Representative John Dennis. TIPC is particularly interested in learning how to best develop the port infrastructure necessary to support the future development and installation of FLOW in Taiwan. ABP is a UK port operator with a network of 21 ports around the UK, handling a quarter of all UK port volumes.