Published: 17 November 2023

17 November 2023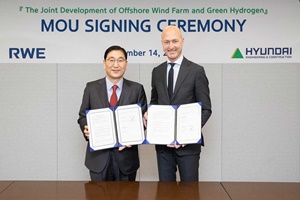 RWE and Hyundai Engineering & Construction, a subsidiary of Hyundai Motor Group, have signed a Memorandum of Understanding (MoU) to cooperate in the fields of offshore wind and green hydrogen.
The companies aim at leveraging synergies to accelerate the energy transition in South Korea by promoting offshore wind and contributing to ramping up the hydrogen economy. Hyundai and RWE also envisage exploring jointly offshore wind business opportunities on a global scale. In addition, subject to favourable market conditions, the two partners plan to combine Hyundai's hydrogen experience from its first Korean electrolysis plant for hydrogen production with RWE's hydrogen expertise from various projects along the entire value chain for future green hydrogen projects. The signing ceremony in Seoul was attended by Young-joon Yoon, CEO of Hyundai Engineering & Construction (Hyundai E&C), and Sven Utermöhlen, CEO of RWE Offshore Wind.