Published: 14 November 2022

14 November 2022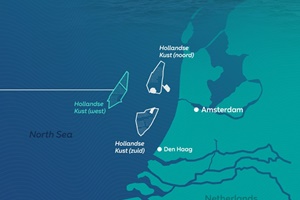 RWE has received the permit to build a large-scale offshore wind farm – Hollandse Kust West (HKW) VII. The site is located in the North Sea, about 53 kilometres off the Dutch coast. On the site RWE will be able to deliver more than 760MW of offshore wind capacity.
To unlock full system integration the concept for HKW VII combines offshore wind with electrolyser capacity for green hydrogen production, and other flexible demand solutions like e-boilers and battery storage. In addition RWE plans to combine the HKW VII offshore wind farm with floating solar panels to allow a more efficient use of ocean space.The wind farm is expected to be in full operation no later than 5 years after the permit is irrevocable. RWE also submitted a bid for HKW VI with an innovative ecological concept to deliver positive impact on biodiversity. The outcome of this tender is expected by the end of this year.