Published: 07 August 2018

07 August 2018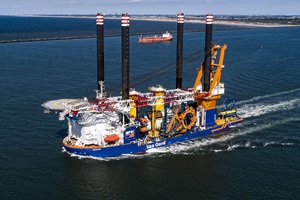 The installation of the first of a total of 45 foundations marks the start of the Norther offshore wind farm project. The wind farm will be located 23 km from the Belgian port of Zeebrugge and will have a total capacity of 370MW.
As main contractor, Van Oord is responsible for the engineering, procurement, delivery and installation of the 45 foundations for the wind turbines, the offshore high-voltage station and the entire electrical infrastructure, as well as for installing the wind turbines themselves. Offshore installation vessel Aeolus underwent a transformation before installing the very first foundation in the seabed this month. Van Oord decided to increase the vessel's loading capacity, increase the number of onboard accommodations to 99, widen the vessel, reinforce the deck and add a helicopter deck. The spud poles have also been enlarged. In addition to the Aeolus, Van Oord will also be deploying its cable-laying vessel Nexus on the project in the next few months.