Published: 21 March 2019

21 March 2019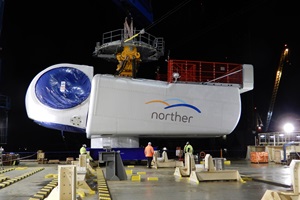 Synthetic rope slings designed and manufactured by Cortland have lifted the wind turbines of the Norther offshore wind farm into place. Global synthetic rope slings company Cortland was selected to support the lifting of monopile, transition pieces and turbines for the project.
The lifting and rigging equipment included seven Selantic slings of 20 metres, 40 metres and 60 metres, with respective capacities of 2,500 tonnes, 1,900 tonnes and 2,000 tonnes, and three Plasma grommet slings. Synthetic rope slings products are known for their light-weight properties, strength, and ease of shipping and handling. The Norther Offshore Wind Farm will feature 44 turbines, each 8.4 MW, when completed near Belgium's coast at Ostend later this year.
Related Articles
Cortland Company, a manufacturer of engineered synthetic ropes, heavy lift slings, electro-optical-mechanical cables, and umbilicals is working with Dutch Heavy Lift Consultancy on DONG Energy Anholt ...Windtech International - Windtech International is the worldwide information magazine for the wind energy industry. It provides the ideal forum for the promotion and explanation of new products, techniques and applications. This trusted and well-respected source of information is read regularly by an increasing readership