Published: 06 September 2019

06 September 2019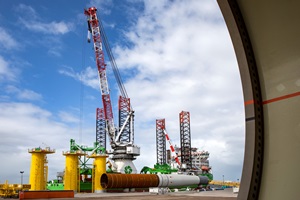 SeaMade and DEME have announced that the DP2 offshore installation vessel "Innovation" started with the first load out of the first 3 of the 58 wind turbine foundations and transition pieces for offshore installation, as support structure of the 8.4MW turbines.
These foundations are the first to be hammered into the seabed for the SeaMade offshore wind farm. In addition, 2 foundations and transition pieces supporting the 2 substations will be installed in the coming months. The "Innovation" is sailing out of the "Maasvlakte 2" harbor area in the port of Rotterdam to the SeaMade concession areas for installation in the North Sea. The SeaMade project is the 8th offshore wind turbine park in Belgium. The substation topsides and inter-array cables will be installed in spring of 2020 and the towers and nacelles will be mounted onto the foundations in the summer of 2020. SeaMade combines 2 offshore wind farms Seastar (252MW) and Mermaid (235MW) in the Belgian North Sea, 40-50 km from Ostend, encompassing 58 turbines of 8.4MW.