Published: 05 October 2021

05 October 2021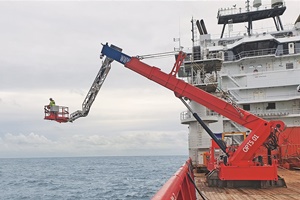 Palfinger's marine business has acquired the Offshore Passenger Transfer System (OPTS) technology developed by Lift2Work (The Netherlands).
The system is a hydraulic aerial lift for transporting both people and materials. Technically, the OPTS is compensated on various axes to absorb waves. It can lift up to six people at once and goods weighing up to 2,000 kg. The acquisition is a response to the increasing market of offshore transfer systems. Palfinger expects this demand to continue to rise in the coming years due to increased public infrastructure developments, especially in the offshore wind industry.