Published: 06 October 2021

06 October 2021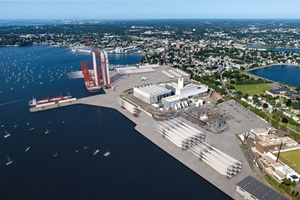 Vineyard Wind, a joint venture between Avangrid Renewables and Copenhagen Infrastructure Partners (CIP), has announced that the company has entered into an agreement with Crowley Maritime Corporation and the City of Salem (Mass.) to create a public-private partnership aimed at establishing Salem Harbor as offshore wind port.
Under the terms of the proposed agreement, Crowley, through its New Energy subsidiary Crowley Wind Services, will purchase the 42 acres surrounding Salem Harbor Station, currently owned by Footprint Power, and will serve as the long-term offshore wind port operator for the site. Vineyard Wind's partners (Avangrid Renewables & CIP) will serve as the port's anchor tenants, utilising the property for the Commonwealth Wind project as well as other projects in the company's portfolio. The Commonwealth Wind project intends to use the site for turbine assembly and staging activities, utilizing the site to store and assemble components – including blades, nacelles, and tower sections – as they are prepared for offshore installation.