Published: 10 June 2022

10 June 2022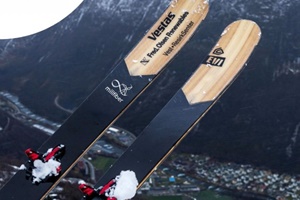 Vattenfall has set a target to recycle all dismantled wind turbine blades by 2030, and 50 percent of the blades already by 2025. Turbine blades from Dutch Wind farm Irene Vorrink will be the first to enter the recycling process and turned into skis, snowboards and construction materials for solar farms.
The recycling of the turbine blades from Irene Vorrink Wind Farm are primarily seen as a pilot project. Vattenfall wants to learn from this process and see which companies are suitable to help recycle the wind blades. The company believes that there is no single solution for this, but rather a number of different ones.
Gjenkraft (Norway) recovers glass and carbon fibres, depending on the type of blade. The company provides composite waste recycling services and sales of the recovered raw materials from the recycling process. These products are used again to make skis or snowboards and other products that contain glass fibres and carbon fibres.
Wind turbine blades are designed to withstand extreme loads, so they consist of strong fibres of glass and carbon that are bound by duro-plastics. The EU project LIFE Carbongreen managed to make new duro-plastics that can be used in the construction materials of so-called agrophotovoltaics, solar panels placed above or among agricultural products. With this material, the steel and aluminium of the construction are replaced.
Vattenfall's goal is to have a fully commercial application as early as 2025 enabling Vattenfall to reach its 100 per cent target much sooner than 2030.