Published: 20 November 2015

20 November 2015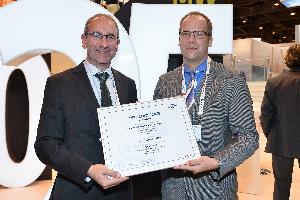 Gamesa has secured type certification for its G114-2.5 MW turbine from DEWI-OCC, the accredited independent certification body of the UL/DEWI group.
This milestone marks the culmination of the turbine's certification process and endorses the platform's technology. The first prototype, located in Alaiz (Navarra, Spain), began to generate power in June of this year. The new G114-2.5 MW turbine is designed for class II wind speeds and it comes with a longer blade and increases nominal capacity to 2.5 MW, enabling it to produce 29% more power than the G97-2.0 MW. To date, the company has already secured orders for the supply of 280 MW of this new model to wind farms being developed in Sweden, Belgium, the UK and Turkey.