Published: 27 June 2016

27 June 2016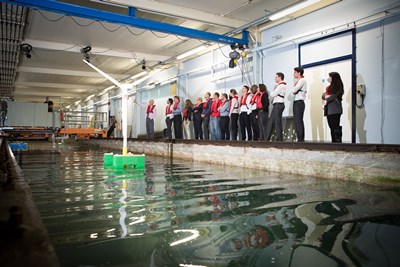 The TLPWIND project, led by Iberdrola Engineering & Construction (IEC) and bringing together the expertise of the Offshore Renewable Energy (ORE) Catapult and the University of Strathclyde, saw the development of a Tension Leg Platform (TLP) turbine foundation to deliver a lightweight and stable solution for floating wind. At a showcase a scale model of the technology was shown in action to prove the concept.
The University of Strathclyde conducted scale model tests to prove the dynamic nature and seakeeping abilities of the TLPWIND platform. Replicating conditions of up to 16 meytres waves and 49 m/s wind gusts on a 1:36 scale model, it was able to show that the concept would work in real-world conditions. A subsequent Levelised Cost of Energy (LCoE) analysis for the design, basing calculations on a 500MW offshore farm based in UK waters, was carried out by ORE Catapult, which estimated an LCoE of GBP 95/MWh by 2025 – although that could be as low as GBP 91/MWh. Forecasts suggest the TLPWIND concept, using larger turbines, could deliver costs as low as GBP 88/MWh by 2030 and potentially as low as GBP 64/MWh by 2050.