Published: 07 July 2016

07 July 2016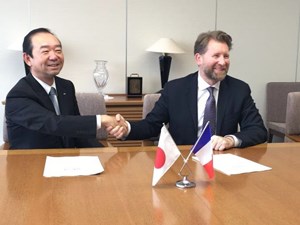 Hitachi Zosen and Ideol have signed a contract launching the construction phase of their 2 floating offshore wind turbines.
These 2 floaters will be each manufactured with different materials (concrete and steel) and will be equipped with different wind turbines and will be anchored using different mooring line materials. The construction of these 2 floaters is the result of a year-long collaboration between Hitachi Zosen's and Ideol's design and engineering teams.