Published: 01 June 2017

01 June 2017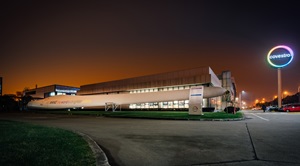 As part of its sustainability approach, Covestro actively pursues the development of materials and technologies for renewable energy generation with a focus on wind power. In particular, the company developed an new technology for manufacturing wind turbine rotor blades.
The rotor blades are fabricated in a special process from a polyurethane resin and a glass fiber fabric. The company has now received the important DNV GL certification for its newly developed resin system in China. Due to the mechanical properties of the polyurethane resin system, wind blades may become lighter and longer through optimised blade design. With faster curing processes and improved processing properties compared to epoxy resins, productivity can be significantly increased.