Published: 06 November 2019

06 November 2019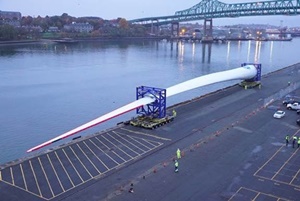 GE Renewable Energy and the Massachusetts Clean Energy Center (MassCEC) have announced the arrival of the blade for GE's Haliade-X 12MW offshore wind turbine at MassCEC's Wind Technology Testing Center (WTTC) in Boston.
The 107-meter blade will undergo a series of fatigue tests that involve moving it millions of times over the period of a few months to validate that it can withstand more than 25 years of operation at sea. The testing is part of the process of commercialising GE's Haliade-X 12 MW turbine by 2021
The WTTC offers a full suite of certification tests for turbine blade sections up to 90 meters in length. Since opening in 2011, WTTC has run 35 distinct blade testing programs entailing hundreds of individual blade tests. WTTC is an ISO/IEC 17025 accredited Laboratory and a RETL (Renewable Energy Testing Laboratory) per the IECRE rules and procedures to test wind turbine blades. On October 22, the U.S. Department of Energy announced a grant to MassCEC for equipment upgrades at the WTTC to enable structural testing of 85 to 120-meter long blades.