Published: 02 June 2016

02 June 2016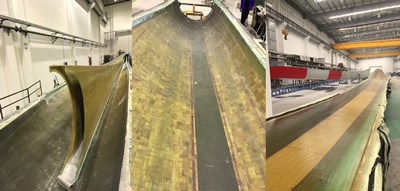 Covestro has manufactured the first polyurethane rotor blade for wind turbines in Asia. The 37.5 meter-long rotor blade, which is designed for a wind turbine with an output of 1.5MW, was fabricated with a special polyurethane infusion resin from Covestro and glass fiber mats from Chongqing Polycomp International (CPIC), a Chinese glass fiber manufacturer at the Shanghai FRP Research Institute.
A vacuum pressure infusion system with continuous degassing, developed by process technology companyHÜBERS, was used to produce the rotor blade. The resin was developed in close collaboration between the Covestro Wind Competence Center in Denmark and the Polymer Research Development Center (PRDC) of Covestro in Shanghai.