Published: 16 October 2020

16 October 2020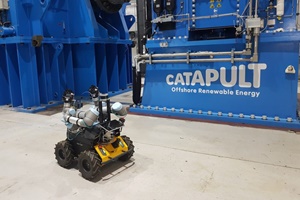 Two UK research organisations in the development of robotics for use in offshore renewables are to collaborate to strengthen the relationship between applied academic research and industry need and further develop and amplify the sector's robotics opportunity.
The Offshore Renewable Energy (ORE) Catapult and the Offshore Robotics for Certification of Assets (ORCA) Hub, a collaboration led by the Edinburgh Centre for Robotics (Heriot-Watt University and the University of Edinburgh), with Imperial College London and the Universities of Oxford and Liverpool, will work together to translate UK robotics innovation and research expertise into products and services for the offshore renewables' industry and link key industry partners with academia based on specific needs and use cases.
Both organisations will use their research expertise and test and demonstration facilities to undertake joint research programmes and projects, as well as developing future skills by supporting MSc and PhD projects. They will also develop a national strategy with specific robotics technology innovation roadmaps towards commercialisation.