Published: 23 September 2021

23 September 2021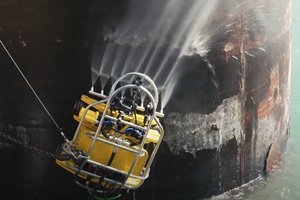 Accelerating the development of robotics and autonomous systems (RAS) will be a significant enabler to reaching Net Zero, according to new research from the Offshore Renewable Energy (ORE) Catapult.
ORE Catapult highlights that by 2050, the global robotics market in the energy sector will be worth £8.4bn. With its high-growth forecasts, wind energy (onshore and offshore) is expected to open up a new robotics frontier that will be valued at £1.3bn by 2030, increasing to £3.5bn by 2050. Meanwhile, declining production will see the oil and gas market's robotics market peak at £5bn in 2030, before reducing to £3.3bn by 2050.
Accelerating and investing in the development of advanced RAS means robots will handle not only routine maintenance tasks, but also improve pre-emptive maintenance, which will extend the life of components and turbines at sea, supporting the industry's waste reduction drive. ORE Catapult's report highlights that the global wind O&M market (both onshore and offshore) will grow from £51bn in 2030 to £120bn in 2050. While robotics will take a share of this prize, these technologies will also combine with data and digital solutions and other forms of O&M to increase that market share.
The expansion of offshore wind is set to offset many of the oil and gas jobs set to be lost over the next 30 years, with RAS set to create a 200,000 net jobs boost across all UK sectors by 2038. While the UK offshore wind O&M market for robotics is set to double in size, the export potential is even greater and set for a growth of 410%, increasing from £235m in 2030 to £1.2bn in 2050.