Published: 25 September 2023

25 September 2023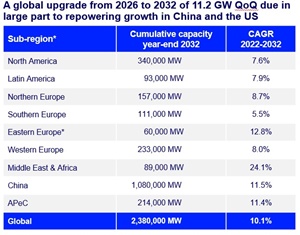 Increased activity in Western markets and Africa will drive a ten-year compound annual growth rate of 10.1% for grid-connected wind power, leading to 2.38 terawatts (TW) of cumulative installed capacity at the end of 2032, according to Wood Mackenzie.
According to Wood Mackenzie's "Global wind power market outlook update: Q3 2023" report, this long-term growth will take place despite short-term challenges that have caused a net downgrade of 10.1GW from 2023 to 2025. China's new "Single 30" regulation, coupled with global inflation and supply chain challenges, has impacted offshore economics, leading to project cancelations and postponements, causing the near-term slowdown in growth. However, the new repowering policy in China provides a boost to the long-term global outlook, with annual build from 2026 through 2032 averaging 170 GW per year. To achieve this, total CapEx investment projections for wind power in the 10-year outlook will equal US $2.5 trillion, with offshore accounting for $850 billion of this activity.