Published: 22 September 2023

22 September 2023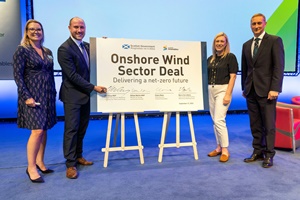 A new deal between the onshore wind industry and the Scottish Government has been signed setting out how both parties will work together to deliver onshore wind farms quickly, sustainable and to the benefit of both local communities and Scotland's net-zero target.
The Onshore Wind Sector Deal sets out a series of key measures which will support the Scottish Government in reaching its target of 20GW onshore wind by 2030. These measures include ensuring the time onshore wind farms take to go through planning is halved to only 12 months and engaging with local communities at the earliest opportunity to agree a package of community benefits. The onshore wind industry and the Scottish Government have also committed to creating a sustainable solution for a circular economy supply chain for the recycling, refurbishing and repurposing of decommissioned wind turbine component parts.
The Onshore Wind Sector Deal was signed by:
Claire Mack, Chief Executive of Scottish Renewables
Neil Gray, Cabinet Secretary for Wellbeing Economy, Fair Work and Energy
Gillian Martin, Minister for Energy and the Environment
Barry Carruthers, Chair of the G12/S5 Onshore Wind Sector Working Group