Published: 04 November 2022

04 November 2022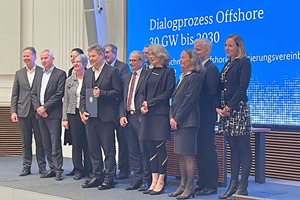 WAB e.V. welcomes the intention of the German Federal Ministry of Economics to exceed the minimum target for offshore wind expansion of 40GW by 2035 and to install 50GW during this period.
This target is part of an agreement reached between the German federal government, the northern states, and the transmission system operators responsible for offshore wind grid connections. The amendment to the Wind Energy at Sea Act sets minimum expansion targets of 30GW by 2030, 40 GW by 2035, and 70GW by 2045. Under the agreement signed today, annual tenders are to be increased to 4 GW in principle from 2027. This will enable 50 GW to be achieved by 2035.
The current Maritime spatial development plan of the Federal Maritime and Hydrographic Agency includes concrete planning for areas with a capacity of less than 37 GW of installed capacity. "Further areas should therefore be identified quickly and put in a sensible chronological order so that the value chain can plan accordingly," said WAB e.V. Managing Director Heike Winkler.
Another important aspect of the agreement is that the federal and state governments pledge to provide their agencies with sufficient resources to ensure that not only offshore wind farms, but also offshore connection lines can be completed quickly.