Published: 03 March 2020

03 March 2020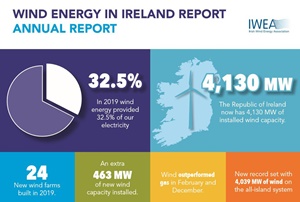 Ireland's wind energy industry broke new records last year and a third of the country's electricity now comes from wind according to the annual report from the Irish Wind Energy Association (IWEA).

There were 24 new wind farms connected in 2019 with a combined installed capacity of 463 MW making it the second-best year on record for new connections. There is now more than 4,100 MW of installed wind energy capacity in the Republic of Ireland.
Headlines results from the annual report include:
Wind energy's share of electricity demand in 2019: 32.5 per cent – up from 29 per cent in 2018.
Total amount of electricity generated by wind in 2019: 9,497,000 MWh – up from 8,691,000 MWh in 2018. To put this in context the total electricity demand from an average family home in Ireland is 4.6 MWh.
Total installed wind energy capacity at end of 2019: 4,130 MW.
Number of new wind farms built: 24
Total volume of new capacity installed: 463 MW.
Amount of wind energy dispatched down in 2019: 1,008,046 MWh (7.7 per cent) up from 707,410 MWh (6 per cent) in 2018.