Articles
Published: 02 May 2017

02 May 2017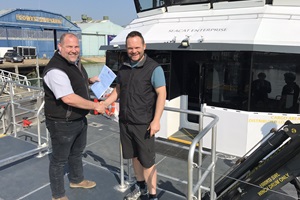 Seacat Services has launched two vessels with the capacity for 24 industrial personnel – the newly-accepted Seacat Enterprise, and the upgraded Seacat Courageous. These boats are certified under the new HS-OSC (High Speed – Offshore Service Craft) code, which now allows vessels under 500 tonnes to carry up to 60 industrial personnel.
High Speed Utility Vessel (HSUV) Seacat Enterprise is the first vessel to be both built and registered in the UK under this new code. Both Seacat Enterprise and Seacat Courageous are 'dual-classified' under the recently introduced HS-OSC code and the existing Workboat Code, which means that they can be licensed to carry 12 'passengers' under Workboat Code rules, and, as an HS-OSC craft, carry a further 12 'industrial personnel'. In making this distinction between 'passengers' and 'industrial personnel', HS-OSC recognises the extensive safety training undertaken by offshore wind technicians and affords vessel operators greater versatility in meeting the demands of supporting large-scale construction projects.
Seacat Enterprise is a 27 metres catamaran and features an enhanced cargo and fuel carrying capacity that enables her to carry up to four 20ft containers in addition to 24 personnel and ship's crew.
The Seacat Courageous is a 26 metres vessel and was originally launched in February 2015 as a 12-seater, but thanks to a modular design has now been refitted and upgraded to become a 24-seater. She features a 26,000-litre fuel tank, and additionally a foredeck that can accommodate up to two 20ft equipment containers.